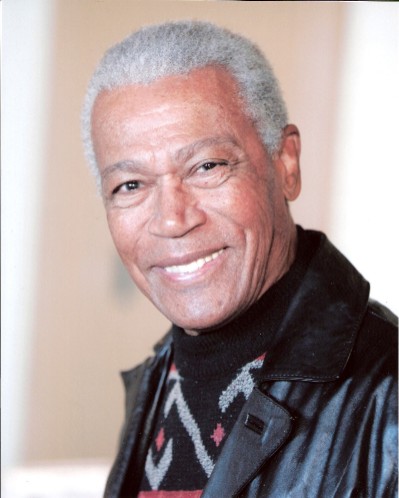 I had the privilege of meeting Johnny Pate in the Spring of 2009. I was on a quest for the chart of the song "An Older Man Is Like an Elegant Wine" which I had heard on a Nancy Wilson CD.  Johnny's name appeared in the liner notes. I rushed to the internet and discovered an article written by Devra Hall mentioning Johnny Pate.  I contacted her and within two days, Mr. Pate sent me an email.  Technology is really wonderful! 
I explained to Johnny that I was preparing to record a CD and wanted to sing that song but could not locate the chart.  He said he could have it ready for me in a couple of days.  When I gave him, my address he said, " where in Texas is that?"  I told him near DFW airport so he said, "then why don't you just come out to my house and pick it up." 
At that time I did not know who he was but did some more research and was overwhelmed!  This man is a Jazz legend! 
 When I arrived at Johnny's home, this very handsome gentleman answered the door.  I thought it must be his son as Mr. Pate was in his 80's.  WRONG!  I was surprised to see that he had been working on a list of songs he thought might be good for me to record. Johnny sat on the floor and played song after song while telling me wonderful stories of his life.  His lovely wife, Carolyn, served tea and cookies and added a few stories of her own.  Johnny also provided suggestions for singers to whom I should listen.  He did all that for someone he had never even met!
Asked how he knew what would be best for me, he said he had listened to the sample songs on my website.  All the material he selected was perfect.  I came away with 5 songs for my CD, two written by him, "Someone You've Loved" and "Yes, I Know When I've Had It." 
Sitting with the legendary Mr. Pate widened my musical horizons.  Johnny is passionate about jazz and that passion is contagious. To say that Johnny Pate is inspirational is an understatement. 
Although Johnny has "retired" in North Texas, it is my hope that he will never really retire as he has so much to give to the musical community. 
I feel very blessed to have had the opportunity to know the marvelous Johnny Pate.  Thank you Mr. Pate!
About Johnny Pate taken from his website www.patesplace.net 
About Johnny Pate 
Born in Chicago Heights, Illinois, Dec 5, 1923, Johnny Pate is a self-taught bassist and arranger, having learned these skills while serving in the 218th AGF Army Band during World War II. After his discharge in 1946, he played with Coleridge Davis' big band and from 1947 to 1949 worked, in succession, with jazz violinists Stuff Smith and Eddie South. While performing with South, Johnny furthered his musical training by studying at Chicago's Midwestern Conservatory from 1951 to 1953. In '53-'54 he was with Dorothy Donegan's Trio and moved from there to the Ahmad Jamal Trio in 1956. During this same time period, Johnny worked for the Club De Lisa as the arranger of its shows' production numbers, which were modeled after the famous Cotton Club reviews in Harlem. The feature male singer in the show was a young man by the name of Joe Williams. Johnny and Joe became life-long friends and Johnny often says that he met Joe long before Count Basie even knew who he was.
Toward the end of the 50's, Pate led his own trip that served as the house band at Chicago's Blue Note. There he worked with such stalwarts as Ella Fitzgerald Sarah Vaughan and Duke Ellington. Johnny's stint as Ellington's bass player at the Blue Note was the result of Jimmy Woode, the band's bassist, having taken ill. Johnny ended up subbing for Woode throughout the entire Ellington Blue Note appearance. Unbeknownst to Johnny, Duke, or anyone else in the Ellington orchestra, a "bootleg" recording was made and eventually released in 1994 much to Johnny's surprise. On that recording you can hear Duke recognize Johnny following his solo on Satin Doll. 
Having recorded as a bassist with his own trio on the Federal, King, Gig, Salem, and MGM labels, Johnny wrote the arrangements, played bass, and conducted on James Moody's 1958 Argo album, Last Train from Overbrook. That album was one of his last as a bassist as the demand for his services as an arranger, conductor, and producer of jazz albums forced him to make these his main musical pursuits. Among the albums that Johnny produced or arranged in the 1960s were Wes Montgomery's Movin' Wes on the Verve label and Shirley Horn's Travelin' Light on the ABC-Parmount label, the latter of which also featured two of Pate's songs: "Have You Tried To Forget" and "Yes, I Know When I've Had It." Other Verve albums followed: Stan Getz' Didn't We?, Kenny Burrell's Asphalt Canyon Suite, Phil Woods' Round Trip, Monty Alexander's This Is Monty Alexander, and Jimmy Smith' The Other Side of Jimmy Smith. In 1993 Johnny produced a second album for Smith, Sum Serious Blues, on the Milestone label that features the vocal work of Marlena Shaw. 
Johnny also successfully ventured into the rhythm and blues field at the request of record producer Carl Davis who wanted to add a new musical twist to h9s recordings of "doo-wop" groups Johnny's suggestion was to add some brass to the backup arrangements. The first recording was of a tune titled "Monkey Time" by Major Lance that became a big R&B hit. The composer of the song, Curtis Mayfield, was the leader of the R&B group the Impressions. Curtis Mayfield was so taken by Johnny's arrangements that he asked him to do the arrangements for the next Impressions ABC-Paramount recording session. Johnny accepted the offer and soon found himself working for ABC-Paramount full-time as a producer. In his own words: "all of a sudden now, I'm doing rhythm and blues things that I'm picking checks up (for) that look like telephone numbers and I wasn't getting these kind of checks doing jazz!" Johnny worked with Mayfield on a string of singles hits that included: "It's All Right," "Amen," "Keep On Pushin'" and "People Get Ready." Johnny would later arrange, orchestrate and conduct all of Curtis Mayfield's original music for the highly successful movie Superfly. 
B.B. King signed with ABC-Paramount right around the same time that Johnny joined the company, and Johnny soon found himself regularly producing albums for B.B. One of those albums, B.B. King Live at the Regal, is considered one of the greatest live rhythm and blues albums of all time.
Johnny's success in the R&B field was followed by film and television scoring projects in the '70s, the best known of which is the music for Shaft in Africa (1975). Johnny also did the scores for the Shaft television series (1976) that, unfortunately, was rather short-lived. Other Johnny Pate movie scores include: Brother on the Run (1973), Bucktown USA (1976), Dr. Black and Mr. Hyde (1977), Satan's Triangle (1978), and the original score for Bustin' Loose (1980). 
When Johnny finally decided to seek "retirement" in Las Vegas, he quickly found his good friend, Joe Williams, on his doorstep insisting that not only was he not retiring yet, but that he had several projects for which he needed Johnny's services as both an arranger and conductor. Williams was getting more and more requests to perform with symphony orchestras and Joe was adamant about having Pate as his conductor. From Johnny's arrival in Las Vegas until Joe's passing in 1999, Johnny wrote arrangements and conducted for Williams on many occasions. He and his wife Carolyn also accompanied Joe and Jillean Williams to England for the recording of the CD Here's to Life with Robert Farnon. Included in that album was the ballad that Shirley Horn had recorded in 1965, "Have You Tried to Forget?" under its new title "Someone You've Loved." 
For several years, Johnny hosted a Las Vegas radio show and shared his great musical expertise with his listeners as well as with music students at UNLV where he taught. Johnny since left Las Vegas but he continues to produce music…at his own tempo… and continues to maintain close friendships with the artists with whom he worked through an illustrious career. 
~~~ 
This text is taken largely from a bio written by Ken Hanlon and printed in a March 30, 2003 concert program as well as in the CD booklet for "Johnny Pate: 80th Birthday Celebration," recorded live at the University of Nevada, Las Vegas. The text was edited and updated in July 2007 by Devra Hall Levy.